Seaside and Coastal Gardens for Northeastern Climates
This garden design plan is not a seaside design theme for an existing garden in any zone. It's about designing a beautiful and thriving garden in seashore and coastal areas in the cooler Northeastern/New England coastal regions.
Because northeast is where i live and garden, and the northeast has harsher coastal weather conditions and climate events (nor'easters and hurricanes, thick cold fog, short growing seasons) to consider.
Coastal areas include many inland homes and gardens, where salt spray and sand are part of life on or near the coast. You'll be surprised at how many of the same beautiful plants grown in inland gardens can be grown on the shore. I am concentrating on perennials and food plants.

Perfect in any northern garden inland as well, these are the best equipped for harsh coastal conditions, like salt, sand, blizzards, hurricanes blowing up from the southern coast, and high, blustery winds in any season.
The good news is that many of these plants can also thrive in coastal gardens in the warmer south. Check the hardiness zones mentioned for plants that will do well in your region.
Seaside gardens are near or on the shoreline.
Wherever your coastal gardens will be, careful attention must be paid to the climate in order to grow a picturesque landscape that blends with, and respects the needs of wildlife and nature, and protects the sand dunes, waterways, habitats, food supplies and breeding grounds of many species of wildlife. Erosion is a huge problem, and beaches are endangered and protected. Before landscaping near the shorline, you must also study the preservation laws and restrictions imp0sed by your local governments.
It's a must that you research the many types of wildlife who live there with you, and protect their habitats, mating and breeding needs. Every locale has strict protections of breeding grounds and habits of local wildlife. In seaside areas, you'll also have to consider how to protect your plants against sea birds and other wildlife garden pests (cute as they might be) damaging or destroying your landscape. Your extension service can help with that.
Working with these considerations is not very difficult. "Plant and protect" is easy when you remember that everything you do to your property, you are doing to the ecosystem and wildlife that depends on the environment, breeding grounds and food supply to survive. Be sure to also research your areas extension for the list of invasive plants, and plants that you are forbidden to grow in your area.
Salt and wind-resistant plantings
Toughest Easy-Care Seashore Plants - Ornamental Grasses and Perennials

No fancy plants or expensive, picky, non-native specimens needed or desired- They 'll break your heart.
They cannot take the tough, or sustained bad weather conditions. Borderline hardy plants - the ones that are iffy hardy at the higher temp end of your planting zone are easily murdered by a harsh winter.
Hardy succulents are perfect for beach conditions. Their fleshy leaves hold water, and they can last for quite some time through hot and dry weather. Hens and Chicks will grow just about anywhere and survive even the worst winters. Shallow, weather-resistant bowls with drainage, vintage tins, are perfect. They are beautiful filling in at the base of your perennials in pots or in-between plantings. They look stunning sitting on side tables or as part of centerpieces. They are available in a lot of color combinations and heights, but most will be less than 4 inches tall. Perfect, also, for planting in beds of whiteor tan gravels. No maintenance except for splitting off the chicks and propagating more plants in more places.
If you're not right on the beach or facing it, you can grow a lot more commonly-grown popular garden plants.
Keep in mind that whatever you grow, it will have to deal with extremes and sudden, difficult conditions. Storms can come out of nowhere, and wet weather or sustained winds can last for days. Take cuttings and root new plants to replace the ones that don't make it. It's common in coastal areas to lose a few plants over the season. Have rooted replacements on standby, ready to plant, when needed.

If you'd like to keep your seashore gardens interesting and portable, grow a lot of your plants in brightly-colored, or muted beachy- colored sturdy, weather-resistant pots, as well as in-ground. Growing in pots will also allow you to grow what normally doesn't grow at the seashore, and grow many that you can rotate indoors and outdoors. Pots filled with colorful plants and foliage on porches balconies and decks are stunning. Plants on tables and weathered benches are a nice touch as the center of a grouping.
Roses That Resist Salt Stress
Yes, you can have fragrant and beautiful roses growing in your garden at the shore, in the salty soil, or in pretty pots. Grow climbers on walls, fences or trellises.
"A greenhouse study evaluated Earth-Kind rose cultivars' response to salinity levels.

Earth-Kind® roses are favorites with gardeners and landscapers.
Chosen for their superior tolerance to heat, drought, and pests, as well as their outstanding performance, Earth-Kind® roses can thrive in most environments, even with limited care.

A new study focused on determining the best Earth-Kind® varieties for withstanding the challenges of salt stress. 'Belinda's Dream,' 'Climbing Pinkie,' 'Mrs. Dudley Cross,' 'Reve d'Or,' and 'Sea Foam' were found to be good selections for planting in landscapes with high soil salinity. ~ Science Daily

You can surely have your rose garden at the sea.
Plant white roses, along with white lavender for a Moonlight Garden theme. Fragrant and glowing in the moonlight.
Ornamental Grasses
Ornamental grasses are very easy to grow. They can tolerate a wide range of conditions and don't need much feeding. I don't feed mine at all. There are dozens of varieties, and many grasses will do well at the seashore. You can choose from tall or dwarf varieties, and there are several shades of color to choose from, and there are plenty of varieties for sun or shade. Some have blooms that look like wheat, others have blooms that look like plumes or feathers. They're all tough and beautiful. Shades of blue and green. They give a lovely look of softness to edges of your garden and in the landscape.
"Elijah Blue" Festucca (blue fescue)
A tough little evergreen ornamental grass. I use these to line edges and of borders in my landscape. Little mounds of cuteness, less than a foot tall.
Non-fading blue foliage is quite ornamental. Hardy, it makes a nice ground cover.
Does well in full sun and poor, fairly dry soil. Plant 6" apart for a tight pattern. Cut the "wheat" stalks for a neater look. I leave some of mine to bloom to add height to the border without hiding plants behind it.
Rabbits don't seem to munch on these. Pest-free, no real maintenance. You may shear a little with scissors for shaping, but it's not necessary. They hold their rounded shape. Sun-partial shade. Bluer when it's shady. Average water needs.
Zones 4-8
Yucca - 'Color Guard'

This ornamental grass/succulent can easily be grown in well-drained, sandy soils. The plant is heat and drought tolerant, and can even withstand the salty air of a coastal garden. Mine did well through a long-term heatwave. It's neat and requires no trimming.

There are many types of Yucca, or "Adam's Needle", but this is my favorite. It has tuberous roots that hold water, and it can be divided and propagated easily, or small shoots at the bottom can be cut off and planted. Mine come through some pretty challenging winter weather. The plant has beautiful foliage, and the long strappy, sword-like leaves are edged with little white "hairs". The growth is dense and adds a nice shot of color and height anywhere you plant it. It goes well with several garden design themes.

I use this plant in every garden. It's spectacular in shape and color. I like it on either side of any planting, and as a base for arches and pergolas. I use it in my Zen Gardens to add foliage and color. Several pots sit on a base of variegated pachisandra, also with beautiful leaves. You can see some in the photo. It is stunning as an edging for a driveway or path, and works as a focal point or backdrop in a garden. Mine are grown in pots so that I can rearrange and move them as i add new landscaping. Mine have required no care at all after planting.

In big pots, they grow to about 2 feet tall and about 18 Inches wide. A perfect size for my container garden designs. They will grow larger in-ground, to about 3ft.x3ft. It flowers in late spring/early summer, and it attracts pollinators.
Full Sun/Partial Shade
Zones 4-10
Sea Oats
I think it's best to grow these in large pots. Native to North America, this ornamental grass thrives just about anywhere you plant it, even in shade. Sea oats bears unique seed plumes and bronze foliage in fall. These plants can provide movement to your garden with their waving stems. This grass is an aggressive spreader in the garden, so it's best control it by growing in pots, or be sure to off seed stalks if you're growing it in-ground. It makes a nice buffer or screen. Looks pretty behind clusters of blue fescue grasses.

About 5 feet tall and 30 inches wide
Deer don't seem to bother with it.
Full sun to part shade in moist, well-drained soil. This plant drought tolerant once it's established.
Zones: 4-8
Sea Buckthorn

Sea buckthorn is an ornamental shrub that grows by the sea. It is very tolerant of salt, in both the air and soil, but it does need plenty of sun. Constant shade will prevent it from fruiting.

If the climate suits it and you like sour flavors, you'll love thisbuckthorn. The berries have a sharp, sour flavor. It is also value as a forage hunter's food, is loaded with nutrients, and has medicinal value.

Full sun, even moisture.
Zones 3-8
Gaillardia
I love 'em!
A tough perennial, also known as blanket flower. It has a long bloom season in any type of garden; it flowers constantly from summer to frost. It's also drought-resistant, so it grows well in the sandy and salty soils around lakes and oceans. Gaillardia is great for cutting and attracts butterflies.
They resemble miniature sunflowers and daisies. They are popular in florist bouquets and last long in a vase. I have them in pots everywhere in the garden. They are colorful and bright, and fill a pot in no time. Beautiful in window boxes, as well. They can be kept short by growing in containers, and trimming back after blooming. Deadheading after blooming encourages more blooms. They are stunning when grown with or aroud dwarf blue hydrangeas or dwarf butterfly bushes.
Up to 3 feet tall and 2 feet wide
Full sun to part shade in average soil. It can tolerate poor and sandy soils and drought. Mine are in big pots, and seem to enjoy a good soak during heatwaves.
Zones: 3-10
Seaside Daisy
The seaside daisy prefers living in sandy or clay soils and mild climates. It can tolerate salty sea spray and cold fog that comes in from the ocean. These plants need no water to survive after it is established. Seaside daisy is cold-hardy to about 15°F and can also tolerate blazing summer temperatures.

Red Hot Poker

I grow these in my zone 6 non-coastal garden as part of my Monarch Butterfly Buffet, along with red and yellow Milkweed.

It has strapy leaves, and its blooms are spikes of red, orange, and yellow flowers in summer. It's an especially good plant for salty soil, but it's also heat- and drought-tolerant and perfect for xeric garden and landscape designs.

It's a favorite of butterflies and hummingbirds.

3 feet tall in bloom, and 2 feet wide. Grow in full sun, and in well-draining soil.
Zones: 5-9
Achillea (Yarrow)
These grow well in coastal and seaside gardens, and it does well in my zone 6 garden. I have several varieties. The plant is tough.
I love the ferny foliage.
Pest-resistant and makes a strong cut flower. It holds up to cold, drought, and windy conditions. Pick varieties with blooms in shades of yellow, terra-cotta, orange, and deep red. it coordinates beautifully with Red Hot Poker.
3 feet tall and wide (Note: there are many varieties, and many of mine are smaller than 3 ft., which is most desirable in my gardens. Taller varieties tend to flop over)
Full sun in well-drained, average soil. This plant can tolerate drought.
Zones: 3-10
Lavender
There are many varieties and sizes, and these will add fragrance to your garden. Lavender is an easy-care sandy soil plant that grows well along the beach.Grows to
3 feet tall and wide, depending upon variety. I like the smaller varieties because i think they look messy when they fall over. And the taller varieties do fall over. I like the lavender paired with ornamental grasses or red flowers. Very pretty when they wave with grasses in the breeze.
Full sun in well-drained soil; can tolerate drought.
Zones: 5-10
Allium (Ornamental Onion)
Bulbs
Available in many colors and sizes. Beautiful blooms in spring and summer. Alliums prefer very well-drained soil, so the seaside is perfect for them.
Up to 5 feet tall when in bloom
Full sun and well-drained soil
Zones 4-9
Hydrangea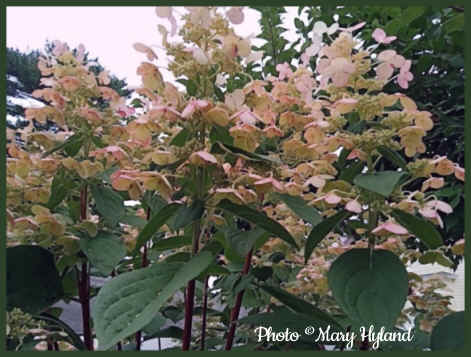 I love hydrangeas, and have several varieties and types of tall and dwarf shrubs. As cut flowers, they can't be beat. Mine turn several colors throughout their season, and the season is long. Cut flowers in a vase will last a long time, and can even be dried by leaving them in a vase once the water runs out. Their strong, woody, long stems with large flowers are perfect gathered into centerpieces on hall tables and dining tables. Hydrangeas don't mind sandy soil and hold up well to wind. They add a lovely fragrance to any garden.
They tend to like a regular watering in the summer heat, and they are not happy in drought. You'll see dried and curled edges and drooping leaves if you're not watering enough. So plant these where it will be convenient for you to water them. I grow these successfully in pots, so they can be moved around to change things up during the season, or to move them to shade during a heatwave.
Various sizes and varieties up to 7 feet tall and 12 feet wide.
Mine are fast growers, and attract many pollinators all day long. They can flower from late spring until hard frost, and can go through a few color changes as they do.
Full sun to full shade (depending on variety) in moist, well-drained soil.
These shrubs are useful in giving the illusion of shady coolness, and added color to a beach area, deck, porch, or patio. Lovely around a seating area. The whites are beautiful in a Moonlight Garden theme.
Zones 3-9
Nasturtium
Grow this as an annual.

Juniper
There's a wide range of types of these easy-growing and evergreen garden and coastal shrubs. Varieties include green, blue-green, or gold foliage, as well as low, creeping types, medium-size, and tall and narrow to use as a privacy screen. If you are planning on creating a zen atmosphere, these are pefect accents. They also have an Asian look and feel. My favorite is blue rug juniper.
Do not hesitate to decorate your evergreens for Christmas and holidays. They look beautful around a seashore, when nothing else is thriving and skies are a depressing grey.
Adding warm white solar lighting will spotlight the plants around them, and adding warm white solar fairy light strings is magical. Set them to steady-on and skip the twinkle. It could disturb noctrnal wildlife or your close neighbors at night. Flashing and blinking lights are not a soothing seascape.
Groundcover juniper can be grown between plants, and in the bases of pots. I put them at the base of my dwarf trees growing in pots. Lovely when hanging down from planters, and draping from windowboxes.
To learn how to design an ornamental evergreen garden, visit this page--->
Full sun to part shade in well-drained soil; can tolerate drought. They really don't need much in the way of maintenace. Dwarf and ground cover varieties don't need trimming, except for shaping the way you want them.
Zones: 3-9
Fuchsia
This shrub will grow an abundance of flowers over a long period of time, which are followed by a reddish-color fruit. The flowers are very attractive to hummingbirds. The concentrated nectar contains high levels of sucrose.
Fuchsia likes some shade. These grow beautifully in pots, too.
Zones 6a-9b
Butterfly Bush (buddleia)




There are over 140 species of Butterfly Bushes to choose from.


They are very rich in nectar, and the flowers often smell strongly of vanilla and honey.

These are available in a few different colors.
Bees and butterflies can't resist.


Full sun. Drought resistant
Zones 5-8

"Pugster" is a dwarf variety that grows very well in pots. Compact, bushy, and minus the long, arching stems with the single flower at the end, these are great for locating butterfly attracting plants throughout the landscape, without taking up much space. Mine grow to about 3 ft. tall and wide, in a 16-inch pot.
Sea Breeze
Sea Breeze is especially hardy, and it can tolerate extremely low temperatures. Its blossoms look like asters.
It prefers the sun and sea air.
Zone 5-8.
Blackthorn
The berries are the essential ingredient in sloe gin. It has a very tart flavor. The branches make excellent fire wood, because it burns slowly, and doesn't emit much smoke.
Full sun
Zones 4-8
Hawthorne
Hawthorne shrubs provide shelter for many birds and mammals. The fruits are edible, and can be made into jelly or homemade wine. When still young, the tender leaves are also edible, making them an ideal salad ingredient.
Full sun. Drought resistant after it's first year.
Zones 4-11
California Poppies
Its petals close at night and comes in a few bright colors. Drought tolerant.
Water lightly until they become established, but avoid moisture when mature.
Zones 5-10
Sea Pinks (Sea Thrift)
A very cute coastal groundcover. It has grassy foliage, and round clusters of pink or white flowers in late spring and early summer. Sea pink is a slow spreader, so you don't have to worry about it running rampant throughout the garden.
1 foot tall and wide.
Full sun in well-drained, moist soil
Zones: 4-8
Bee Balm (Monarda)

I don't think i've ever grown a garden that didn't include bee balm. It's valuable as a pollinator attractant. And it's tough. I plant it along the hellstrip at the curb. It's growing in sandy, gritty, nutrient-poor soil. It is very pretty when seen from the street.

It attracts several species of bees, butterflies, and the occasional hummingbird. It grows just about everywhere in the U.S.

Bee balm is a perennial in the mint family. Its very aromatic leaves can be used just like regular mint. It is also useful in treating skin conditions, or made into a balm to treat bee stings. I like to crush and pop the leaves into my cocktails. Beautiful when planted around Butterfly Bushes, where it will attract many species of bees and butterflies. it has a long bloom season. Deadheading encourages it to bush out and bloom all summer-til fall.
Its minty leaf lfragrance repels deer.

It can spread, but slowly, and all you have to do is pluck and plant them in another area of the garden to propagate more plants. They come in several colors and are very easy to grow.
Partial shade/full sun. Soil that is moist, but not wet, is their preference.
Zones 2-10
Veggies/Herbs for The Coastal Garden
If you live right on the beach, you can still grow vegetables in raised, weather-resistant garden beds and in pots. Wooden beds, made of weathered cedar look great, but you can find grey and rough wood-look resin heavy-duty raised beds on legs for the look and function, as well. Galvanized planters and implements look great, too. Galvanized feeding troughs are big, functional and have a great look as planters. As do any recycled metal or tin pots, and adding many sizes of weathered terra cotta clay pots. Don't try growing them in the soil, because they are surely going to struggle, and probably die.
Salt Tolerant Vegetable Plants
Veggie Plants having high levels of salt tolerance and that grow rapidly:
Beets, Kale, Asparagus, Spinach

Sea Kale
Sometimes known as sea cabbage. Unlike regular kale, it is a perennial, and will die down and come back in spring. It's taste is a a cross between asparagus and celery.
It likes full sun and moist soil.
Zones 4-8
Veggie Plants that have medium tolerance:
Potatoes, Tomatoes, Peas, Lettuces, Broccoli, Cabbage, and some varieties of squash (read the seed or plant labels for mention of salt tolerance).

Herb Plants

Thyme
A woody perennial that grows under the most challenging of conditions. There are many varieties that can be grown as culinary herbs or teas. I grow the creeping lemon thyme for the scent, and for flavoring my chicken and fish dishes, as well as salads. Thyme freezes and dehydrates very well. Thyme leaves are used as a natural cough remedy. Thyme loves hot and sunny conditions, tolerates drought well, and prefers well-drained soil
Zones 4-9
Rosemary
A fragrant and tasty addition to your seascape. It's a tough perennial herb with pretty blossoms, and it is very tasty in poultry and fish dishes. Rosemary is a Mediterranean herb that can take the salt air. It loves the sun, and it is hardy in zones 4-9.
Decorating Your Coastal Garden
Many coastal and seaside dwellers do not landscape much except with foliage, and sparsely - because sand, wind, salt, salty soil, and native wildlife habits make it a challenge. But it's a rewarding and do-able challenge and one that should be considered. Seasides are relaxing and meant to be soothing. The sound of the waves, and the feel of the seabreeze in the evening is very good therapy.
Your retreat can be zen, relaxing and meditative. It is the perfect place to design a Moonlight Garden with the right plant choices. And the garden doesn't need much care, nor does it have to feel "flat". Keeping xeriscape principles in mind, you will find many workable ideas for your beautiful and romantic retreat. You don't have to limit yourself to decor and accents strictly related to the sand and ocean. Nautical is not the only way to go. Think of the mediterrannean and islands, and you'll see that there is no need to go nautical if you want romantic or meditative.
One factor that is a must to remember, and it's one that thrills most gardeners..... There should be ZERO grass.
You can grow a tough, low or ornamental grass on a path to your seaside retreat, but nowhere else. Lush grass as part of this garden design is just not desirable.
Ever seen someone mowing the shoreline? Lawn grass does not grow well or look good on the beaches and seashores.
Ornamental grasses are beautiful replacements, and they're carefree. Dwarf, hardy varieties and different shapes are readily available, and many grow in several different climates and planting zones.
Seaside gardens must be tough, out of necessity. But they can be filled with flowers, fragrance and foliage. These gardens make wonderful natural habitats, as well.
Most plants for coastal areas have to be tough, but they are also pretty and quite appropriate for almost any type of garden and location.
Paint It White - Paint walls and structures in and around the garden or landscape white. If you have fencing around your garden, paint that white, as well. It repels insects and makes the garden look bigger. It's also a great neutral backdrop for all of the colors of your plants.
Plant into gravel, shell mulch, rocks and stone to add interest to sandy surroundings. Add driftwood, and edge with landscape tie accents, if you wish. Also unusual organic washed up treasures. Ornamental grasses lend a sense of breezy, wavy movement.
If you scour enough flea markets and yard sales, you might get lucky and find old beach pails and shovels. That' a prize for your seaside garden. The ones I had were kids' pails and shovels - vintage painted beach scenes on the pails were very cool. If you find vintage metal "Plaid" or "Thermos" picnic baskets or coolers, scoop them up. The picnic baskets have lids and handles, and even if beat up or a little rusty, look great with the lid off, filled with succulents or a shell collection. You can use them to stash your gardening stuff.
Seabird sculptures are a natural. Choose greys, blacks and whites, in metal or weathered wood. Flea markets in a seashore area will have a lot of it that can be used in your gardens. You can decorate your gardens with very little cost. Anything nautical-related, but not touristy, is also a great decor addition. Anything that is associated with your region's seashores fit in well. For instance, upcycled lobster traps and crab baskets, and fishing nets. Use these sparingly. Let nature take the stage.
Paint your seating arrangement pieces in beachy and sunshine colors, like whites, tans, turquoises and light blues. Don't shy away from a light yellow or bright red or blue accent. Colored pots can take care of the accent colors. Lay an upcycled weathered ladder against a wall or structure, and grow pots of succulents to place on the treads. Two-step ladders can add more vertical interest with potted plants placed on the treads. Paint it or leave it weathered. Weathered wooden benches are a good addition for seating or setting plants/accessories onto.
University of Maine's Listing of Salt/Sandy Soil-tolerant plants
Choose plants that thrive in your hardiness zone.

Trees:

Balsam Fir
Red Pine
European Birch
Pitch Pine
Sawara False Cypress
White Poplar
Cockspur Hawthorn
White Oak
Honeylocust
Cedar (Arborvitae)
Jack Pine
Littleleaf Linden
Austrian Pine
Mugo Pine

Shrubs:

Flowering quince
Cinquefoil
Summersweet
Beach Plum
Sweetfern
Fragrant Sumac
Redosier Dogwood
Smooth and Staghorn Sumac
Cotoneaster
Virginia Rose
Evergreen Euonymus
Creeping Willow
Juniper
Common Elder
Sheep Laurel
Buffaloberry
Northern Bayberry
Spirea
Red Chokeberry
Common Lilac
Mountain Andromeda
Witherod; Arrowwood

Groundcovers/Berries:

Bearberry
Creeping Juniper
Lowbush Blueberry

Vine:

Woodbine

Herbaceous Perennials:

Columbine
Daylily
Thrift
Hosta
Artimisia
Bee balm
Butterfly Weed
Catmint
False Blue Indigo
Peony
Snakeroot
Oriental Poppy
Japanese Bleeding heart
Phlox
Foxglove
Obedient Plant
Globe Thistle
Sedum
Sea Holly
Hens-and-Chicks
Blanket Flower
Goldenrod
Article ©2021 marysbloomers.com
All rights reserved.

Sources:
Rose Research - Science Daily
My Gardens
University of Maine
Earth-Kind® roses
Our new free and premium graphics sister site is up and running - visit it here-->

Design, graphics, articles and photos ©2008+ marysbloomers.com™
All rights reserved.