A garden plan for growing herbs used in flavoring and making teas.
Create a serene pleasure garden for sitting and sipping.
Pluck and steep the herbs in your tea, and harvest some to keep in pretty jars for winter.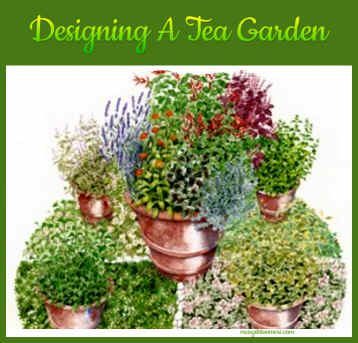 Use your own design, or download the herb garden design plan shown above
Included is a list of plants, a large version of the garden illustration, and planting guide.
Feel free to swap out certain plants for similar height plants that you like better,
that are suitable for your hardiness zone. -Design plan by Country Living
If the soil in the desired area is undesirable, use pots on stones or in fern planters, or grow in an elevated raised bed with well-draining, rich and healthy soil. I add compost to most of my potting mix. Plant the garden in a sunny area. It would like at least 6 hours of sun per day.
Scatter a few solar light strings, solar plant stakes, or small solar lanterns around the garden area for amazing evening ambience, and so that you can visit and enjoy your tea garden at night. Evening in my garden is my favorite Mary Time. Many plants have fragrances that are stronger dring warm nights, and when the dew is on them. The Moonlight Garden Design has a list of those fragrant plants that you can place around your tea garden, or along a path leading to it. Use citronella candles, or grow some citronella, to keep out uninvited bugs. Incense sticks poked into the ground around the garden work well. I don't have a bug problem. I have birds inhabiting the gardens that control them.
Choose plants that star in your favorite herbal teas and those that grow in your hardiness zones. Those that don't can spend all summer in your garden, and spend the winter as houseplants. Harvest your crop regularly by pinching off leaves so that they remain bushy and compact. Apply fish emulsion or epsom salts fertilizer monthly to keep them bushy and growing fast.
For a look at traditional Japanese gardens for decor and landscaping ideas, visit this page. Later on, i will write about Japanese Tea Gardens and the Traditional Japanese Tea Ceremony. If you ever saw the movie, "Shogun", you are familiar with the custom. At the bottom of the article, i will list recommended books and garden items to help make it easy to grow and care for your tea garden and plants. I hope to dig up some herbal tea and teatime recipes for you, as well.




Herb brews are called "tisanes" and are made from the leaves or flowers of herbs. You can infuse them, and herb stems, in your teapot, or steep a blend of herbs in your cup. You can use your favorite blends and teas that are in teabags or loose leaf, and just add pinches of fresh herb to steep along with it.

Set up in a space where you can add a seating area and a place to set down a teacup and teapot.

I like to use bistro sets and bamboo backless, foldable benches in my gardens. You don't have to serve yourself just what's from your garden... any teas would do. I particularly enjoy jasmine tea and a milky spiced chai.

The herbs you grow there should be those you would enjoy in tea blends, as additions to your tea, and as a decorative and fragrant atmosphere for your tea ritual.

Don't forget to invite your dog. Karma loves to lay at my feet and pretend she's protecting my space. Dogs ooze good zen. Take along a biscuit, and watch how fast that dog is part of your ritual, whether invited or not.

The best advice I can give you is to keep it simple. The tea garden is meant to be a quiet retreat for you, not a weed-pulling and maintenance marathon. Go to that garden solely to relax. Use plants that are no-fuss. Pick dwarf trees or berries can do their own thing once established. Choose several herbs and plants that are Pick, Steep and Sip. Like the berries, ripe fruits, lemons and mints. Keep a cute jar or utensil holder with a paring knife, small inexpensive pruners or small scissors in it, so that you can pick or cut what you wish to harvest, without going back indoors to get them. That cramps your zen. By far, your best picking tools are your pinching fingers.

Have a small table or two around to set tea supplies upon. To use for your break, or to be considered part of the garden decor. Or a pretty and weatherproof antique or asian-style box with a latch closure, in which to house an extra teapot, teacup, spoon, special fabric napkins and condiments, like cinnamon sticks. And maybe a favorite book. Keep a jar or bottle of purified water in the tea garden to use to rinse the leaves you pick, or to clean your hands. You want to keep that sit and sip thing going on without working at it.
If you have an outlet near your garden, score one for the hotpot. I love that 1 minute to boiling pot. If you don't have power near the tea garden, boil your water and bring it outside for your break. A pretty little thermal carafe will keep your water or prepared tea hot for a while while you relax and sip. Or just bring out your antique teapot filled with the hot water or tea into the garden. Get a bamboo tray with an edge around it to carry stuff into and out of the garden, like your pot, cup, spoon, honey pots, scones, and jam pots. If you have antique linens, bring out a tea cloth and pretty napkins.
Consider the tea garden to be your sacred space. A bistro table with 2 chairs allows you to invite someone into your zen space. Set the extra seat aside if you're sipping solo. Or sit a potted plant on it until you need it. You can also make sun tea to have ready when you are. Add a pretty windchime, a lantern here and there, a spiritual piece of decor, and your retreat will be heavenly.
Find a special time for your tea ritual. I like evenings after dusk, and mid-mornings as my coffee and tea-sipping times. It's very quiet and serene. The ritual makes it an expected planned and treasured respite before or after your gardening chores or during stressful times, and it also forces you to slow down and really smell the roses, and enjoy the fruits of your labors.

The Garden and The Decor
Decorate with dwarf clumping Bamboo in pots, dwarf conifers and dwarf japanese maples for an Asian style evergreen touch - that's part of my personal zen atmosphere. I'm wild about clumping bamboos in asian-style ceramic or stone pots. Delicate leaves and evergreen. I place my collection of jade plants in the garden beds as accents, and on tables. I use medium clusters of smooth black and white smooth stones throughout the garden, and at the bases of potted trees and plants. I have a few dwarf and lacy-leafed trees that look beautiful around my asian-style gardens. They would set the scene for my tea garden retreat. Always check your hardiness zone, and research your plant ideas for information about toxicity or health concerns before drinking them. Make teas solely with the herbs, or add the herbs to your favorite cup of pre-blended herbal tea.
Use lemon balm, lemongrass, and a dwarf meyer lemon tree in a big pot as a focal point or specimen plant. With the dwarf meyer lemon, you get regular size lemons. The tree is ornamental, and the leaves and white flowers are pretty and fragrant in the garden. It also grows beautifully as an indoor plant. I live in a cold zone, so i bring it in all winter. It has pretty, glossy leaves and it keeps them, and the white flowers smell sweet. Not fussy. Use the leaves of the lemon herbs for teas and cooking.
The herbals and florals found in herbal teas on the grocery shelf, and the culinary herbs served to you in restaurants, are a good indication of what's safe to drink in your tea. Be aware that the leaves and parts of many plants not commonly ingested in our foods can be poisonous, so do your homework on culinary herbs and herbal medicines.
Use those decorative plants and vines as your retreat's decor, and don't drink them unless they are deemed non-toxic.
All of the suggested herbs and flowers look stunning in designed herb and flower gardens, so you don't have to confine all of them within the tea garden design. Put some in the rest of your garden. It also helps in pollination.
Harvesting - Avoid a bitter taste to the leaves and prevent wilting by picking in the early morning or in the evening. Swish the herbs in cold water to clean, then dry. For today's tea, pick and use them now by steeping in your cup, or you can keep cuttings fresh in a vase of water and use within 5-7 hours.
The Plants
First of all, consider growing your tea sweetener.

I love honey in my tea. But i also like to just add a pinch of stevia herb as a substitute, if i don't want the honey flavor. Grow it in your garden.
Roses - the petals and hips are used in making teas. Rose hips are packed with vitamin c, and the rose petals add a little sweetness to your blends. I use them in my loose leaf tea blends, and steeped in my teacup. Fill a tea ball and steep it in your herbal tea.
chrysanthemums - colorful in fall, the blooms are delicious in herbal tea.
Pot marigold (Calendula officinalis) 18 inches tall, bright orange blooms. Petals or whole flowers make a slightly bitter tea. Annual.

Berries - Plant a few dwarf berry plants... in pots or raised beds on legs. Blackberries, raspberries , blueberries, mulberries and strawberries love to be part of your teatime. Create jams and preserves for your berries to spread on scones or toast that accompany your tea. Dry some to add to your tea blends, or pop them into your teacup fresh. I like the colors berries add to my brew. Suggestions: Chokeberry, Blueberries, Mulberry, black currant, strawberries, Hawthorn berries, Blackberries, cranberries, and raspberries.
Dwarf Fruit trees - there are dwarf varieties of citrus and many other types of fruit trees, many of them cold hardy, and most do well brought into the house if they're not. Suggested trees that I grow indoors and out: are Meyer Lemon, Persian Lime, and if you've never experienced fresh sweet figs along with your tea, or tasted fig preserves, grow dwarf fig trees. They're tough, and several varieties are cold hardy to zone 4. Pomegranate, and apricot. Many fruits can be the preserves accompanying your tea, or dried and added to steep in your tea in your tea garden.
Wild Strawberry- planted 8 inches apart; 8 to 10 inches tall. Small white flowers The leaves make a fruity tea; and the fruit can be dried or floating in your tea. It tastes good combined with sweet woodruff or stevia leaves. Zones 4 to 8.
Chamomile. Daisy-like flowers; soothing at bedtime and when you're stressed. Looks very cute in any part of your garden.

German chamomile (Matricaria recutita) plant 12 inches apart; grow 12 to 24 inches tall; fine, ferny foliage. White daisy flowerheads are used for a mild, relaxing, applelike tea. Zones 4 to 8.
Anise hyssop. Hardy perennial with fragrant spikes of purple blossoms. Licorice flavor. Fennel bulbs can be grown for another licorice-tasting herb.
Bee Balm (monarda) - This is a no-fuss plant that pollinators love. Petals are used in tea. Some varieties have a mint base., like 'Petite­Delight' (Monarda citriodora). Bee Balm is a rock star as a pollinator magnet, and blooms profusely all season. Their fragrance is sweet. Aromatic Bee Balm makes a medicinal tea with a mild mint flavor. It reportedly fights colds and flu, and is soothing to a sore throat. It's a beautiful ornamental plant, when covered in blooms. I have several varieties. They're easy to propagate... They like to spread out a little. Just pull out a stem with roots and there you go. I have them in pots and beds. No maintenance. Deadheading encourages it to flower again.
Passionflower - Tea made from the leaves is relaxing. This is a beautiful flowering vine. Grow it on trellises, in pots along fences, or growing on arches. It can be invasive if not potted up.
Lemon anything... I use a lot of lemon flavor in cooking and beverages.
All lemon flavored herbs are appropriate in the tea garden, and they are refreshing and fragrant.
For your garden decor, use lemon balm, lemongrass and a dwarf meyer lemon tree in a pots as a focal point or specimen plant. With the dwarf meyer lemon, you get regular size lemons. The lemon tree is ornamental, and the leaves and white flowers are pretty and fragrant in the garden. It also grows beautifully as an indoor plant. Use the leaves of the lemon herbs for teas and cooking. I make and preserve marmalades, combining lemons with any citrus. Lemon curd spread is a tasty treat at teatime.
Lemon verbena. Sprawling, aromatic perennial. Keep it in a pot because it wanders quickly.
Golden lemon thyme (Thymus x citriodorus 'Aurea') trailing, 6 to 8 inches tall; pungent, small, gold-rimmed leaves and tiny pinkish flowers. Leaves make a spicy emon tea.
Lemon balm (Melissa officinalis 'Aurea') 12 to 24 inches tall; hardy perennial with mintlike foliage; prune regularly. Lemon-scented leaves make a refreshing hot or iced tea. Zones 4 to 9.

Variegated thyme (Thymus vulgaris 'Silver Queen') planted 18 inches apart; 6 to 10 inches tall; tiny leaves edged with silver; pale mauve flowers. Brew the leaves for a spicy, pungent tea. Zones 5 to 8.

Sweet woodruff (Galium odoratum) planted 12 inches apart; 6 to 12 inches tall; in May, topped with clusters of tiny white flowers. Its dried leaves make a mild, woodsy tea. Zones 3 to 9.

Mints - confine all varieties to pots or containers because they can spread everywhere and they do it fast.

Pineapple mint (Mentha suaveolens 'Variegata') 12 to 24 inches tall; wrinkled, woolly leaves edged in cream. Not as robust as some other mints. Fragrant pineapple tea is delicious hot or cold. Zones 7 to 9.

Curly spearmint (Mentha spicata 'Crispa') 12 to 24 inches tall; bright green foliage with crinkled edges. The leaves make a pungent, minty tea often used to aid digestion. Zones 4 to 9.

Peppermint (Mentha x piperita) 2 feet tall; square stems, clusters of mauve flowers along the stem. Brew leaves to make a refreshing tea that's soothing to the digestive system. Zones 4 to 9.

Pineapple sage (Salvia elegans) 36 inches tall; pineapple-scented bright green foliage; loose spikes of two-lipped scarlet flowers in fall. Leaves make a pineapple/melon-flavored tea. Zones 8 to 10.
Purple basil (Ocimum basilicum 'Purple Ruffles') 18 to 24 inches tall; purple-black leaves; clusters of pink flowers in a loose spike. Keep pinched for bushiness. Leaves and flowers make a pinkish tea, with mild peppery clove overtones. Annual.

Creeping rosemary (Rosmarinus officinalis 'Prostratus') 6 to 12 inches tall, trailing; gray-green needlelike leaves and pale blue flowers. Use either flowers or leaves to make a piney flavor tea. Zones 8 to 10.

Chocolate mint geranium (Pelargonium tomentosum 'Chocolate Mint') 12 inches tall; velvety gray-green leaves marked with chocolate; small white flowers. A minty tea is made from the foliage. Zones 10 to 11.

Lavender (Lavandula angustifolia) 12 to 24 inches tall; aromatic gray-green leaves topped with long-stemmed spikes of purple flowers. Flowers make a delicious pale green tea with mild floral overtones.
Zones 5 to 8.
Steep Times of some herbs
Bee Balm – Steep Time: 15 minutes. A tablespoon of dried petals or 2 tablespoons of fresh petals
Rose - Petals and hips – Steep Time: 10 minutes, fresh or dried. The prettiest cup of tea you'll ever have. The rose hips are packed with vitamin C.
Chamomile – Steep Time: 5 minutes
Holy Basil (Tulsi) – Steep Time: 5 minutes or more. 1 teaspoon of dry herbs or 2 teaspoons of fresh.
Lemongrass – Steep Time: 5-10 minutes.
Lemon Balm -Steep Time: Approximately 5 to 10 minutes.
Mints – Steep Time: Dried leaves-5 minutes, Fresh leaves-8 min.
Hibiscus – Steep Time: 5 or 6 minutes.
More Tasty Herbs For Your Teas
Fennel
Fennel tea has a pleasant, slightly bitter, licorice taste.

Angelica - The root is a digestive.

Stevia - strong, natural sweetener
Stevia leaves contain Vitamins C and A, iron, potassium, zinc, and calcium. Since the leaves are so sweet, use it in your teacup in place of honey and refined sugars.

Echinacea (conflower)
I grow several varieties in my gardens because it's very pretty, drought and pest-resistant, the blooms last all summer, and it's a pollinator magnet. Echinacea tea can help to boost your immunity in winter, and fight off colds and flu. Echinacea tea has a strong floral taste that goes great with honey.

Dandelion
Dandelions aren't just a weekend chore. We know about the wine, and we know the baby leaves are great in a salad. They are rich in potassium as well as Vitamins A, C, and K, and dandelion tea is often used to treat digestive problems.

Hibiscus
These line up along my fences. The flowers are huge, and they're very ornamental. Hibiscus tea tastes fruity and tart. Hibiscus is rich in Vitamin C.
I make a dried blend with rose petals and lavender.