The majority of commonly-grown ornamental grasses are deciduous. Their foliage dies and turns brown in the fall, but often remains standing.
There are a few evergreen types available that look great all year long.

Fountain grass (Pennisetum) is a mound-forming ornamental grass and a garden favorite, and growing fountain grass is easy.

They can also grow in containers, indoors and in the garden. The cascading leaves on this plant have a fountain-like appearance. Fountain grasses are available in several sizes.

Purple fountain grass is used as an annual, and must be brought indoors in northern zones. It's very pretty in containers or in beds. Deer resistant and hardy only in Zones 9 to 11. Give plants full sun and well-drained soil
Most ornamental grasses prefer full sun locations, there are a number of grasses that will provide interest to shaded areas in the garden. Many are beautiful in containers, but bear in mind that container plants are not as hardy as when the grass is planted in-ground. Meaning.... if i grow a grass hardy to Zone 6 in a pot outdoors, it's hardiness is diminished by at least a zone or two. Meaning it became hardy only to zone 8, while in a container. Those are the plants that i have to bring indoors. And they grow great indoors, as well as outdoors.
Do consider the weight of the plants in containers if you have to bring them inside.There are several cold hardy ornamental grasses that will be able to handle the winters outside, but mainly those that you don't grow in pots. Dwarf perennials grown in the garden beds are the way to go.
Indoors - Except for the water-loving varieties, most ornamental grasses won't need extra water once they've become established. Water every other day after planting, gradually extending the time between watering. After 2 or 3 weeks, watering twice a week should be plenty.
Short and Medium Garden Varieties

Blue Oat Grass - Deer tend to leave this plant alone. This ornamental grass attains a height of 2 to 3 feet tall, with a similar spread. It tolerates some shade, but grow it in full sun (and well-drained soil) to enjoy the signature blue hue of its foliage. The plant produces spiky, dark flowers with a bluish tint in summer that turn harvest gold in autumn. Steel-blue foliage

Zones: 4 to 8
Sun Exposure: Full sun

Northern sea oats- grows 2 to 3 feet high in loose clumps of green foliage. Its name comes from its seed pods, which look like oats. This deer-resistant ornamental grass is cold-hardy to zone 5.

**My Top Pick for decorative grass to use everywhere - Elijah Blue Fescue.
Zero Maintenance. Mature plants are about 1 foot by 1 foot. Grown in zones 4 to 8 (Festuca glauca ). Very pretty and ornamental blue-green grass i use everywhere. It's beautiful for 4 seasons. Mounding, neat and dense evergreen, clumping, drought-and pest-free. The plant looks like a spiky puffball. Gorgeous as edgings along pathways, perfect between plants and for edging a flower or vegetable bed. It takes both sun and shade. It works very well in my Asian and Zen Gardens, and needs zero care. Delicate wheat-like spikes spring from the dense centers in summer. These evergreen puffballs look stunning when dusted with snow. These also make great fillers in container gardens and can be used indoors, as well. Shallow-rooted and easy to re-locate.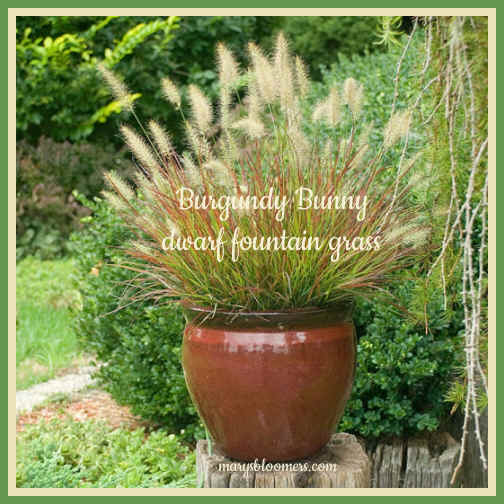 Best Varieties For Pots
Choose dwarf and short varieties of grass, unless you're using them as backdrops or focal points. Most tall varieties are not happy in containers, and have been known to just burst out of their pots.
Unlike most potted plants, ornamental grasses do not really thrive when planted in a general-purpose potting mix. Ornamental grasses do best when planted in a mixture of compost, topsoil and a small amount of grit (fine gravel or perlite).
The primary purpose of the ornamental grass is to be pretty. Ornamental grass isn't meant to be mowed, isn't meant to be uniform, and isn't meant to be walked on. Lawns, or functional grass, is mainly negative space. Ornamental grass is used in landscape design in the same way you would use flowers, shrubs, and trees.

"Burgundy Bunny" Dwarf Fountain Grass. Red foliage and green blades. Summer bottlebrush blooms are cream and abundant. The compact size mkes it a natural for container gardens and small beds. Zones 6-10, and appear just before the entire plant turns scarlet red in autumn.
Blue oat grass - The plants grow 2 to 3 feet tall, with thin spiky leaves and a clumping growth habit. It is non-spreading, which makes it an excellent little accent plant in rock gardens and small beds. Similar to the dwarf fescue,"Elijah Blue". Taller, and not as round and dense.
Zones: 4 to 8
Steel-blue foliage
Full sun
Soil Needs: Dry to medium-moisture, well-drained soil

Hakone grass - It grows 12 to 18 inches tall with a graceful, arching growth habit.
USDA Zone: 5 to 9
Yellow-green foliage
Part shade
Moist, well-drained soil

Sedge Grass - When grown in containers, their bronze tinged leaves glow in the sun, while the narrow blades pick up the slightest breeze. Leatherleaf sedge grows 1 to 2 feet tall, with fine-textured, upright foliage.
USDA Zone: 6 to 9
Bronze to brown foliage
Full sun to part shade
Rich, moist, well-drained soil
Feed the container plants with a high nitrogen fertilizer a couple of times during the summer, and cut them back each early spring and late winter. Other than that, the major maintenance is dividing them when they outgrow their containers, which can happen quite quickly.
Tidying Up Grasses In The Garden
Winter interest is one of the biggest reasons for growing ornamental grass, and you will miss that if you trim in fall. When spring does come, you cut the plant back early enough to get the old growth out of the way before new growth begins so that you cut the new shoots, since they'll be in your way as you remove dead stalks. Fall is fine, but birds and other habitat creatures appreciate the old growth.
I have found that the easiest and neatest thing to do when trimming it back is to do what hair professional do. I gather a handful at a time and cut it, trash the trimmings, and then i move onto the next handful. A handful at a time is way better than chasing and picking up those fine grass clippings from the ground, after the wind has had it's way with them.
Perennial Ornamental Grass
In The Garden
- Backdrops, Focal Points and Decorative Landscape Edgings



Pony Tails (Nasella) - Long wispy plumes, narrow and hair-like, 14-18" long. 40 inches tall. Stems become silvery-gold by about August. Tender perennial zone 7-10.

Dacotah Switch Grass - 3-5 ft tall. Reddish stems, golden brown seed heads. Hardy to most of the U.S.


Pampas Grass - Big, puffy plumes. Height: 5-7 feet

, Spread: 3-6Ft.

Full sun, partial shade. Blooms in mid summer-fall. Flower plums 1-3' long. Fast grower. Blooms mid to late summer. Does best with full sun. The foliage is sharp and may cut your skin. Use gloves and protective clothing when cleaning up and caring for this grass.



Maiden Grass has an arching, clumping habit. Plumes of white flowers above the foliage, beginning late summer and lasting into fall. Fast-growing perennial. Approximately 4 ft. tall and wide. Full sun. Zone 5/down to -10 degrees F.

Zebra grass (Miscanthus sinensis 'Zebrinus')
is native to Japan, but will grow in zone 4 to 9. Can get up to 7 feet tall.

Full sun to partial shade. Highly-tolerant of urban pollution and will thrive in cities. Its grassy leaves are bluish-green, with yellow variegation.

Similar to the dwarf fescue,"Elijah Blue". Taller, and not as round and dense. Zones 4-8




A beautiful solo native specimen plant for patios, or as a focal point in perennial flower beds. Great accent plant for those who have smaller gardens and not a lot of room for several large grasses. 3-5 ft. tall. Blooms late summer/fall. Beautiful as a row in the back of the garden, along a sunny foundation, or as an edging.
Zones 6-10

Very pretty and tough Mexican Feather Grass can be tucked just about anywhere. Full sun. 1-3 ft. tall, and about 1-2 ft. wide. Great for beds, borders, erosion control, Ground Cover, Meadow Gardens, and Rock Gardens. Zones 6-10

Zones 5-9
Desert Plains fountain grass (Pennisetum alopecuroides) forms an upright vase-shaped clumpThe narrow leaves are green until midsummer, when they begin turning a deep red. By fall, the leaves turn shades of orange and gold. 5-inch bottlebrush seed heads appear in early fall.




This grass looks very much like a weeping bamboo. Very beautiful when grown in footed urn pots or elevatedcontainers, where it shows off its weeping habit freely.

Zones 5-9. Weeping mounds of gold-striped leaves. Leaf color varies according to the level of light. In full shade, leaves display lime green stripes. In part shade, the gold and green variegation is evident. Plants are deer resistant.


Native prairie grass that forms rounded clumps. A fine-textured grass, for edging beds, in rock gardens, xeriscapes. or planted between other perennials. Full sun, with well-drained, dry, rocky soil. Insufficient sunlight causes plants to flop open. In wildlife gardens, it provides cover for foraging birds, the dry stems provide nesting material, and it produces abundant seeds. Plants are hardy in Zones 3 to 7, and are heat and drought tolerant.



Click the pic below to download a free garden design
plan for designing with ornamental grasses

Multiply the design for larger areas, and feel free to swap out the suggestions with those of your choice that grow in the same zone.

Plan is in .pdf format, and includes a large illustration,
a plant list, and detailed planting guide.