Generations ago, they arrived in suitcases, steamer trunks, and sewn into coats and pockets....
The seeds from Italian villages that became sauce tomatoes, chicory, finocchio, rapini, artichokes, and squash. And stem cuttings from thick, knobby vines that became beautiful backyard grape arbors. And, treasured above all, the little bits and pieces of sticks that grew into the iconic and beloved fig trees of Italian immigrants.
Starting in the late 1800s, when Italian immigrants poured into U.S. port cities, the Mediterranean trees set down their roots in unexpected places: Astoria, Cleveland, Pittsburgh, Bayonne - all cities whose cold-weather climates were known to be hostile to the warm weather plant. Yet the trees grew, even if their owners had to wrap them in burlap or bury them underground so they'd survive the cold winters.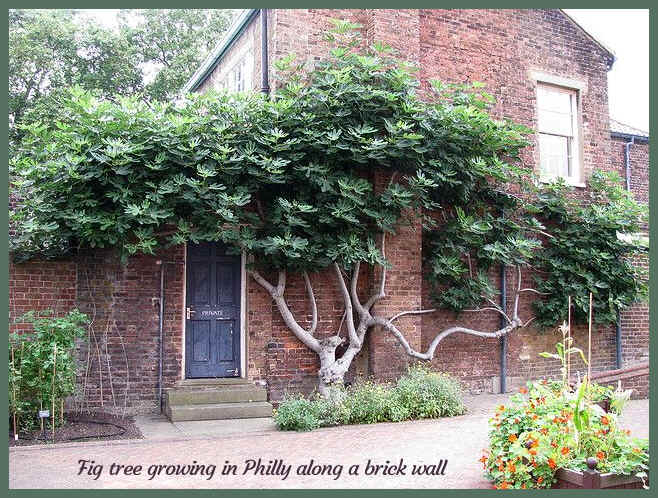 Best spot: Along a south-facing wall.
Why would someone try so hard to grow a Mediterranean tree in such an unfriendly climate?
A generation of turn-of-the-century Italians who immigrated mostly from agricultural Southern Italy to American cities like New York, brought their future American dream garden with them in their luggage and clothing. Italian Americans grew kitchen gardens as a means of survival, and a way of accessing beloved Mediterranean produce. The tradition persisted with later generations of immigrants. For agricultural people in Southern Italy, a fig tree offered a source of fruit that could be dried and kept for lean times. The Mediterranean trees became a symbol of adaptation and survival. I am of Italian descent, my family, and almost all of my neighbors, were immigrants or children of immigrants, who landed in NYC in the 50's. I heard the stories, and witnessed their unique gardening methods....
Other cultures that connect to the fig tree include Greek and Turkish Americans.
The other Mediterranean heirlooms that also found their way into the country in suitcases generations ago, were Sicilian saucer tomatoes, dozens of varieties of chicory, bitter broccoli rabe. But the first thing most Italian immigrants planted were the fig trees. It was good luck for the family to have one growing in the yard and producing figs. They also brought fig tree cuttings for their American relatives to plant. Cuttings of the fig tree are handed down through the generations. You can still identify historically Italian neighborhoods by the presence and number of backyard fig trees.
The one thing we don't know for sure, is the name of the varieties of most of the fig trees that traveled here.
Sculptures of the Madonna guard many Italian-American gardens. Most Italian gardeners watch their fig trees like hawks, and cover young fig clusters in old mesh onion bags so that the birds won't see or get to them.
A Tree Grows In Brooklyn..... and Queens, Staten Island and New Jersey.
It is estimated that in Astoria, Queens, NYC, at least one-third of the homes are inhabited by those of Italian descent, and they have a fig tree, or more often two, in their yards. Along with the traditional statue of the Madonna keeping watch and bestowing blessings. By all accounts, fig trees don't belong in New York City. It's just too cold, even for the hardiest varieties. But grow here, they do. And in most cities in the northeast. Gardening wisdom and research says you can't, but obviously, there's room for argument. With climate change accelerating, it won't be long before citrus and even banana plants may overwinter in some northern protected gardens.
An odd phenomenon in city neighborhoods growing fig trees is the prolific crop of one neighbor's tree, while another neighbor's gives up the ghost, even with the same care and climate. Some superstitious neighbors believed that the absence of statues of saints and religious icons within the garden was the reason for the fig's failure to survive. An custom in the 1950's and '60's Italian gardens in was the iconic Virgin Mary statue lovingly watching over the garden, usually housed in a homemade grotto. Vases of beautiful garden flowers were placed at her feet. There are probably many of these statues and other homemade religious icons still gracing the gardens of generations of Italian Americans. For a fascinating look at a sacred garden design, learn how you can design and grow a traditional, dedicated Mary Garden as a lovely retreat within your landscapes. Younger generations might also add a statue of St. Francis and St. Fiacre....patron saints of gardens and gardeners. I have small sculptures of Mary and Francis, along with angels, displayed among the flowers in my front garden.