Eastern Bluebird
Range: Eastern Bluebirds are year-round residents in the southern United States. They typically begin nesting as early as January in the south and in March in the northern United States and southern Canada. They are also found in parts of Mexico, Central America, and Bermuda.
Field marks: Males are bright blue above and rusty orange below with a white belly. Females look similar but have a blue-gray back and lighter orange underparts. Both sexes are seven inches long and stout-billed. In flight, look for short blue wings and tail.
Feeding: Eastern Bluebirds feed on ground-dwelling insects, including beetles, crickets, grasshoppers, and caterpillars, which they can spot while perched as far as 150 feet away. They pounce upon their insect prey, then fly to a perch and strike it against a hard surface before feeding—or they just catch and eat insects in the air. Adults also feed juicy, high-protein spiders to nestlings. Wild berries are also eaten, especially in colder months. At feeders, offer raisins, currants, suet mixes, and mealworms (live or freeze-dried).
Yuck.
Western Bluebird
Range: Western Bluebirds are found in southwestern Canada, Mexico, and many western U.S. states. They are medium- to short-distance migrants that winter in the southern part of their range and begin nesting in early April.
Field Marks: Adult males have cobalt blue wings and tails as well as an all-blue head, chin, and throat, and a white belly. The upper breast is chestnut with varying pat-terns of blue and gray. The back may be partly or entirely chestnut. Females are a paler, grayer version of the male.
Feeding: Western Bluebirds eat insects in warm weather, and fruits and berries in winter. Mistletoe and juniper berries are favorites, and they love mealworms at feeders. They are often seen "fly catching" or foraging on the ground, using low branches as a jumping-off place.

Mountain Bluebird
Range: Mountain Bluebirds are found primarily in the western mountains from east-central Alaska to south-central Mexico, migrating to the northern parts of their range to begin nesting in late April.
Field Marks: Breeding males have a turquoise-blue back, a paler blue breast, and white belly and under tail coverts. Females and juveniles are gray above and have pale blue wings and tail and a buffy chest. The adults are slightly larger and thinner-billed than other bluebirds; their wings are proportionately longer than the other bluebird species.
Feeding: Mountain Bluebirds feed on insects, including weevils, wasps, beetles, bees, grasshoppers, caterpillars, and crickets. They often "hover hunt" when foraging, or hunt from low perches before dropping or darting upward to capture prey. In late winter, they rely on native berries of mistletoe, hackberries, juniper, and hollies.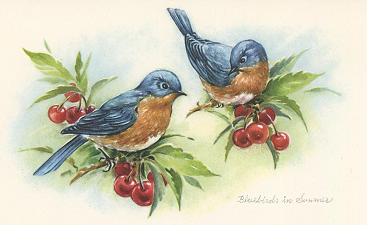 Quotes About Bluebirds