Le Jardin Créole
Creole and Cajun Cuisine Food Gardens
Both Creole and Cajun cuisine draw from French cooking traditions adapted to Louisiana's resources and influences, but Creole cuisine is considered more "city food" while Cajun cuisine is considered simple "country food."
Louisiana Creole cuisine is a style of cooking originating in Louisiana that blends West African, French, Spanish, and Native American influences, as well as influences from the general cuisine of the South. Creole cuisine revolves around influences found in Louisiana from populations present in Louisiana before the sale of Louisiana to the United States in the Louisiana Purchase.
The term "Creole" describes the population of people in French colonial Louisiana which consisted of the descendants of the French and Spanish upper class, and over the years the term grew to include native-born slaves of African descent, as well as those of mixed racial ancestry. Like the people, Creole food is a blend of the various cultures of New Orleans including West African, French, Spanish, Caribbean, and Native American, among others.
Creole cookery grew out of the area's well-to-do 18th century farmers' desire to develop a grand cuisine. Many of these farmers were of European descent; the cuisine relies in part on classic French cooking techniques and Spanish seasonings, as well as African American influence. Gumbo, for example, is a Louisiana tradition whose origins are based in the French soup, bouillabaisse.
Spanish paella evolved to become another of the region's favorites, jambalaya. Ancestral Germans brought pigs, chickens, and cattle to the region, providing a regular supply of ingredients that are now considered staples in Creole cuisine: milk, butter, and sausage. Native Americans introduced new settlers to local produce such as corn, as well as other ingredients such as sassafras leaves (filé powder, when ground) and bay leaves. Africans contributed "kin gumbo" (okra), which they brought with them to the new land. Each ethnic group made a contribution of ingredients and cooking methods, creating one of the most unique and flavorful cuisines in the world.
The Cajun cuisine is based on locally available ingredients and that preparation is relatively simple. An authentic Cajun meal is usually one pot dedicated to the main dish, one dedicated to steamed rice, andouille sausages, or some seafood dish, and the third containing whatever vegetable is seasonally available. Crawfish, shrimp, and andouille sausage are staples used in a variety of dishes. The green bell pepper, onion, and celery are called "the trinity" in both Cajun and Louisiana Creole cuisines. Roughly diced and combined in cooking, the method is similar to the use of the French mirepoix - roughly diced carrot, onion, and celery, commonly used in stews and soups. The Creole version may also include parsley, oregano, bay leaf, green onions, dried cayenne pepper, and black pepper.
The descendents of French refugees from Acadia (Cajun country), Canada, Cajuns (a shortened version of the French word "acadien") lived off the land and befriended the Native Americans, Spanish and Germans in the area. They lived in the swamps and bayous of southern Louisiana, where an abundant supply of fish, shellfish, and wild game became their dietary staples. Theirs is a hearty country food, born of difficult living conditions and heavily dosed with a desire to comfort. Many are peppery one-pot creations like jambalaya, stews, soups and gumbos.
Cajun and Creole cuisine have been mistaken to be the same, but the origins of Creole cooking began in New Orleans, and Cajun cooking came 40 years after the establishment of New Orleans. Today, most restaurants serve dishes that consist of Cajun styles, which were called "Louisiana cooking". In native home cooking, these individual styles are still kept separate. Unfortunately, there are fewer and fewer people cooking the classic Cajun dishes that would have been eaten by the original settlers. Blackening of fish or chicken and barbecuing of shrimp in the shell are excluded from Cajun traditional cooking methods because they were not prepared in traditional Cajun cuisine. Blackening was actually an invention by chef Paul Prudhomme in the 1970s, becoming associated with Cajun cooking, and presented as such by him, but it is not a true historical or traditional Cajun cooking process.
Skip the designer cuisine and TV personality hypes and go for the real traditions and customs.
If you would like to grow a garden for Creole or Cajun style cuisine, here are some essential
Cajun and Creole seasonings, vegetables, herbs and spices to grow or to stock in your pantry
Cajun and Creole cuisines are built upon onions, bell peppers, and celery (similar to the onions, peppers, and carrots of the French mirepoix), Thyme, sage, mint, marjoram, savory, and basil are considered sweet herbs.
Cajun gardens growing in the north? Okra's not happening, really. Neither are southern peas and most sweet potatoes - so you'll have to either grow these in a greenhouse, supplement with frozen, or make substitutions in the garden with plants that will grow in your zone. Must-haves are bell peppers, onions, celery, tomatoes. Preserving your harvests will assure you of having the ingredients on hand for your creole and cajun dishes when you want them. Drying, freezing, canning - all are great ways to stock a winter season pantry. Another valuable, although less desirable method is to buy these as fresh produce from your organic and farmers' markets, and preserve a supply of things you can't grow yourself to last you through the winter.
This garden design plan was put together basically for the cajun/creole food garden and the hardiness zones in louisiana. Substitutions of plants for a northern cajun food garden will also be appropriate in your recipes. Traditional - Find varieties or similar plants to take the place of some plants that you can't grow in the colder zones.
Spices and seasoning blends can be purchased in specialty culinary shops in your neighborhood or online.
Allspice
Basil
Bay leaf
Bay leaves
Black pepper
Caraway seeds
Cardamom
Cayenne pepper
Celery seed
Chili pepper
Chervil
Cinnamon
Chives
Cloves
Cumin
Dill seed and weed
Garlic
mint

Lemon
Mace
Marjoram
Mustard seed
Nutmeg
Onion
Oregano
Paprika
Parsley, flat leaf
Peppercorns
Saffron
Savory
Tarragon
Sage
Sassafras leaves (dried and ground into the spice known as " filé" for gumbo
Sugarcane, also cane syrup, brown sugar and molasses
Thyme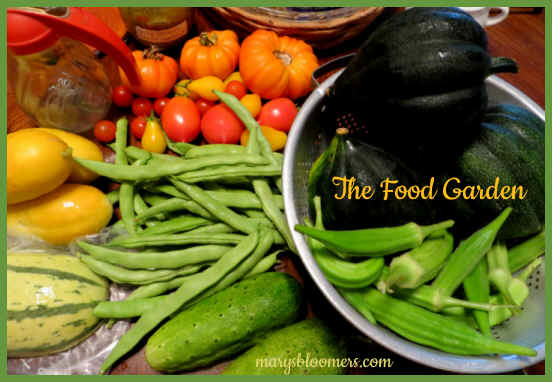 For A Creole/Cajun Vegetable or Ornamental Edible Garden
Grow what you can in your region, and grow substitutes or hardy varieties, if available, if you're not gardening in the deep south.
Growing most of these in pots, indoors and out, is a great option for northern gardeners. These are favorite edibles that grow
well in a Louisiana vegetable garden, and not necessarily used specifically for Cajun and Creole recipes.
Most of these veggies and fruits are grown and used in many southern regions and styles of cuisine.
So it's actually a valuable all-around southern cuisine food garden, focused on Louisiana Creole and Cajun.
Check the USDA cold hardiness map and choose appropriately zoned plants that will grow in your particular region.
Plant listings from nurseries and seed companies, as well as your regional extension service,
will tell you what zone their seeds, trees and plants will thrive in, as well as how to care for the plants.
Garlic
Green mint
Sage
Thyme
Bell peppers (green or red)
Sweet frying peppers
green beans
peas
dill
Blackberries
Cayenne peppers
Oregano
parsnips
pecans
dwarf orange trees in pots or in-ground
squash
strawberries
sweet potatoes
tabasco peppers
tomatoes

edible soybeans
beets
Basil
chickory
Lemons
brussels sprouts
broccoli
Dwarf Sassafras tree
Cantaloupe and other melons
Corn
eggplant
chives
celery
onion
snap beans,red beans, black-eyed peas, lima beans, yard-long beans
turnips
chinese cabbage
cauliflower

Scallions (green onions)
Collard greens
cucumbers
figs - dwarf trees in pots or plant hardy trees in-ground
leeks
limes
pumpkin
malabar and new zealand spinach
shallots
kohlrabi
kale
radishes
some lettuces
mustard greens
rutabaga
Swiss chard
Irish potatoes

peanuts
File (pronounced Fee-lay). The leaves from the sassafras tree that are dried and powdered. It is absolutely essential for authentic gumbo, because it is used to thicken and flavor the dish. A filé gumbo is thickened with dried sassafras leaves after the stew has finished cooking, a practice borrowed from the Choctaw Indians.
The Sassafras tree can be grown, even in colder regions, and pruned to be kept smaller in a large pot or container, unless you have room for a 30 ft. tree somewhere. The sassafras tree is a beautiful ornamental that's hardy in Zones 4 to 9. It's ornamental in autumn, when leaves turn golden andorange. In the spring, it blooms with yellow flower clusters, and it has a wonderful fragrance all year.
If you can't grow the traditional southern okra in your region, perhaps the Chinese okra, or climbing okra - the fruit is edible when 6 to 8 inches long and can be sliced, breaded and fried like okra.
Any Squash..... and Mirliton ("Vegetable Pear", or "Chayote")
What is a Mirliton? I just learned this myself!
Raw mirliton crunches like a potato, tastes like cucumber, and a little like zucchini. Sautéed, it tastes like starchy apples; boiled and fried, its translucent green makes you think of what a honeydew melon would look and taste like, if honeydews were vegetables.
It's used much like you would use squash in recipes, and it's very stuffable. Many cooks pickle them to make a tasty condiment.
Simple French Quarter-style Courtyard Gardens and Other Tiny Garden Ideas
If you have a brick or stone patio, terrace or courtyard, you can easily turn that area into a little French Quarter garden.. An unused side yard with enough room for seating or just a bench, can also be an amazing space, when surrounded by plants in pots or climbing on trellises and walls. New Orleans is well-known for it's very small yards, if any, and narrow courtyard gardens. Simplest of design ideas follow. Expand if your space is larger:
The famous courtyard gardens of the French Quarter date back only to the mid-20th century. The Garden District is a neighborhood in the city of New Orleans.
This whole area was once a number of plantations. It was sold off in parcels to mainly wealthy Americans who did not want to live in the French Quarter with the Creoles. Originally, the area was developed with only a couple of houses per block, each surrounded by a large garden, giving the district its name.
The appeal of today's courtyard gardens is it's simplicity and sense of enclosure. Like a teeny secret garden retreat.
The style creates a romantic feel within a small tropical space. Fragrant flowers, flowering vines, iron plant stands, iron-look or any ornate urns filled with ornamental foliage plants, raised planters, iron trellises and wrought iron seating. Fill some of the urns or raised beds and window boxes with Creole and Cajun culinary herbs for a pretty and fragrant kitchen herb garden, without creating a designated area or herb bed. Northern gardeners can achieve it by using hardy versions of the herbs or substitutions.
Create a vertical garden in the small, sheltered narrow spaces with tall and ornate trellises, small arches, and use vines trained to a stone or brick wall.
Espalier is also a great way to plant lots of shrubs or dwarf trees without needing a lot of outward space. You'll get the same amount of fruit or flowers on the dwarfed ornamental trees as you would on those huge ones. Do it on walls and fences. Here's how to do it.
Teeny courtyard spaces will look a little cluttered with a lot of plants. That's where the different levels of planting concept comes in handy. Ground level, mid-level, tall and climbing, as well as hanging pots and raised garden beds on legs.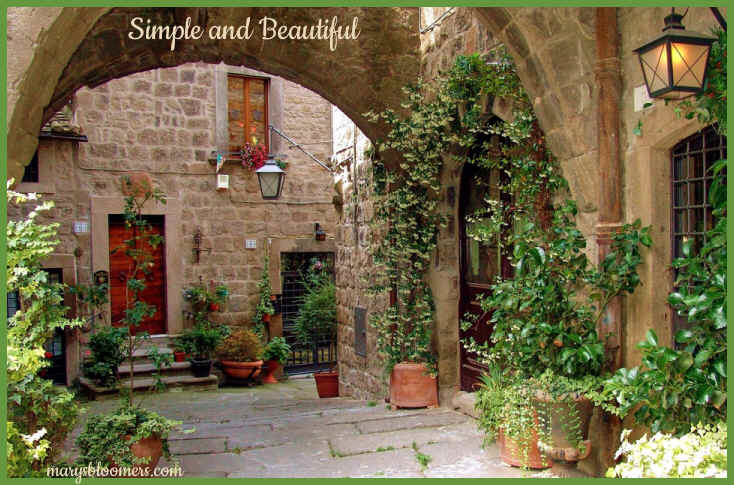 In a courtyard garden, rely on greenery and flowers to soften the hardscape, and the vertical surfaces of walls provide an ideal spot to train vines. Vines can sink their roots in planting beds or containers. If you're using containers to host perennial vines, make sure they're large enough to give roots adequate room. Many courtyard gardens are shady, so select vines that withstand lower light conditions. Planting space is at a premium in courtyards, so tending a garden in containers is a beautiful way to save space and still have lots of plants. Annuals, perennials, some vines and most shrubs can all perform well in pots.
If you don't have a courtyard, use a stone/brick patio or terrace as the basis for the courtyard feel.
Make use of non-stop flowering annuals and perennials to create a courtyard cottage garden. Bamboo, Japanese forest grass (Hakonechloa macra) and Japanese iris (Iris ensata) in pots will achieve a Japanese garden theme. Ferns, hosta, bleeding hearts and other shade-lovers give a shaded courtyard the feeling of a forest grotto.
| | |
| --- | --- |
| | |
| | |
Some typical features of courtyard gardens
You can create the courtyard look and feel by using your patio or terrace or the side spaces around your house that aren't used for that illusion of enclosure or privacy. Stone and brick walks or walls, stone ornaments or statues, and stone or stone-look planters will give that effect. Adding a stone faux or real wall fountain on house walls is a nice atmospheric touch.
Traditionally, courtyard gardens feature flagstone, rustic stone or brick walls and floor - Inexpensive and ornate evergreen creeping fig can creep up brick walls, and it's very pretty. It has delicate, teeny leaves, unlike the big ivy seen on walls. It also comes in variegations. I have some that is dark green with white edges. You should control it in pots and with pruning, though. Especially if yours is a small space between houses. You don't want your plants to ramble and interfere with your neighbor's garden.
Set planters on the patio/terrace filled with anything you like. Flowers, fruit, foliage plants all come in dwarf sizes especially suited to being in pots. Lemon and lime trees look beautiful, and you do get full-sized fruit. The leaves are a gorgeous deep, glossy green. If you live in a warm area, they are hardy. In the north, bring the potted plants indoors. They make happy and stunning house plants. Mine flower like crazy, smell wonderful, and they will also bear fruit indoors. Put them back outside when it's warm in spring.
Fig trees can be grown in pots, as I do in the north. If you're in a warm zone, they will be very happy outdoors in-ground, in pots and espaliered against walls and arches. Don't espalier the trees if you can't leave them outdoors all winter. That would be a lot of care for a plant in the northern region, when you would have to bring inside for it to survive. And it would damage or kill the plant to remove it from the espalier frame or training wires. Espalier is beautiful on brick or stone walls, or free-standing on a frame, as well.
Examples of ornamental espalier. And visit this page for How to do it for most types of fruiting trees and ornamentals
Historically, courtyards in New Orleans were lit by gas lamps on posts. You can still do this, or find the many beautiful solar pathlights, sconces, lamp posts and lanterns that suit your style and how you will use the space. Place a few solar fairy light strings among the plants to add a little magic.
Found objects - Flea markets, yard sales, antiques auctions, grandma's attic - all are filled with decorative and sentimental objects that can be used to define your garden spaces.
Potted dwarf trees and ornamental shrubs, palms and other heat-loving plants - Elevate some plants in pots for more planting opportunities, and to create a look of more vertical space. Choose plants resistant to fungus if your region is plagued by high humidity.
Round garden beds look better in tight spaces than square ones in small square gardens, and add a lot of interest in a brick or stone courtyard. Tall trellises and single, ornate metal fence panels allow for climbing plants, create a screen or a backdrop for floor-level plants and shrubs. They also look great around a wrought iron bench or bistro set seating area.
Potted ferns, (several varieties will grow in northern gardens and other can grow indoors in winter), aspidistra, and dwarf Japanese maples look beautiful together. Dwarf Japanese Maples come in many varieties and colors. Many have delicate, wispy leaves and weeping habits. Plants like plumbago, camellias (there's a hardy variety for northern gardens), blooming agapanthus, bird of paradise, and ligularia add spots of color. I would add the stunning Angel Trumpets and jasmine on a brick wall, divider or heavy ironwork trellis. In a shady spot, you can encourage ferns to grow in cracks in a wall or steps.
I might also plant a small variety of crape myrtle tree in a pot as a focal point, and azaleas in pots, but i'm not really a big fan. They're definitely a nice addition to a southern garden design. I would prefer a stone fountain as my focal point.
Below are suggested plants for a French Quarter Style Ornamental Garden - choose plants and varieties based on what will grow in your area, and based upon the USDA Cold Hardiness Zone Map. Many ornamental plants in pots can be brought indoors in winter, and placed in the garden again in the spring after the last frost date for your area. You can easily find suitable replacements that have the look and feel of the ones you can't grow, or treat them as annuals you will plant every spring.
Eliminate the grass and add decorative gravel or stones.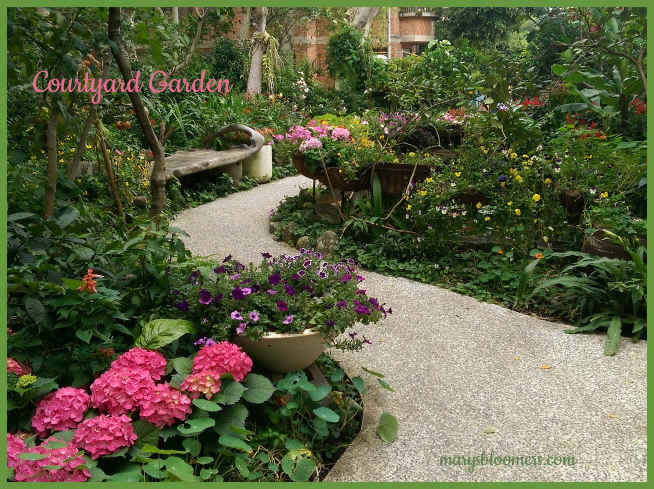 Bedding plants
Perennials - pansies, dianthus, snapdragons, stock and calendulas.
Bedding plants for part-shade to shade:
Balsam, begonia, browallia, caladium, coleus, impatiens, New Guinea impatiens, pentas, salvia. Caladiums, have gorgeous foliage in lots of variations and are beautiful in any garden and in pots. They grow very well indoors, too. They're planted from tubers or plants, and are one of the best choices for lots of color in full shade.
sun to part sun:
ageratum, amaranthus, angelonia, balsam, blue daze, celosia, cleome, coleus, coreopsis, cosmos, dusty miller, gaillardia, marigold, zinnia, ornamental pepper, periwinkle vine, pentas, portulaca, purslane (an edible weed- mine finds it's own way into my landscape and i pull it), rudbeckia, salvia, sunflowers, SunPatiens, verbena and zinnia.
Louisiana Irises - I grow these in my Japanese and Bog gardens. They do well in the ground, in pots, and in bog gardens. Louisiana iris is the name used for a unique group of native Louisiana iris species and their hybrids. Aquatic culture is one of the easiest and most natural ways to grow Louisiana irises, and the foliage tends to stay more attractive in the summer. Simply place a potted iris into your water feature, bog or aquatic garden so that the rim of the pot is a few inches below the water's surface. Louisiana irises also grow well and look great planted in the ground, as well as on the edges of ponds.
Ornamentals - Magnolia, Gardenia
Climbing Plants - Roses, Jasmine, Angel Trumpets, Wisteria, bougainvilla, Honeysuckle,Trumpet Vines. Star Jasmine rambles around fences, posts, tellises and over walls, and Asiatic jasmineis a fast-growing ground cover. Both will fill the night air with intense fragrance.
Potted Palms, succulents and Cactus - Prickly Pear Cactus (opuntia) is hardy in the north. Mine return every spring. Agave, Yucca and Aloe are beautifully architectural. I grow them in pots. I grow my Jade trees outdoors during the summer, and return them to their spots indoors for winter. They love the heat, and grow quite a bit in summer. As always, research your indoor plant's culture before vacationing it in the summer garden.
Shady Gingers- In their natural habitats, most gingers grow under the canopies of trees in filtered light, although some grow in the open at the edge of water and in sunny conditions. Generally, gingers will do best where they receive direct sun for about two hours a day and should not be planted in hot, sunny, dry locations. Shell ginger and some types of Curcuma and Costus grow in full sun.
Many different gingers can fill a variety of gardening needs. Low-growing gingers, like peacock ginger and smaller species of Curcuma or Globba, make great groundcovers or at the front of shady borders. Medium-sized gingers 3 to 6 feet tall include species and cultivars of Curcuma, Hedychium and Costus, while the shell ginger grows 10 to 12 feet tall. These larger gingers are perfectt for accents, focal points, screens or the back of a border.
Tropical (or Hardy types for northern gardeners) Giant Hibiscus - A tall, tough and gorgeous plant with flowers as big as big dinnerplates. Long blooming time.
Decor
To add to the tropical look and feel, add small water features among the plants and pots, even if they're just bird baths or large basins with solar fountains floating in them. The birds love it, and the bubbling sounds at night are soothing and cooling. Add a larger fountain as a focal point in the landscape, or set one near your seating area. These are available in whites, pinks, lavenders and reds for hardy northern varieties, and many more colors in the tropical variety.
Stone, concrete or stone-look ornamental pieces, stone and clay planters, angels, a stone wall fountain (working or not).Wrought iron fencing (a whole fence or just panels or gates) here and there covered in flowers and vines, black metal trellises, iron arches, iron bistro sets or patio furniture. You can hang a mardi gras-style mask in a secret corner or on an available window or door, and add old brass musical instruments found at a flea markets or yard sales for a jazz feel. If using a mask, make it small and classy without adding a mardi gras feel to your space. Add a small water feature where you can.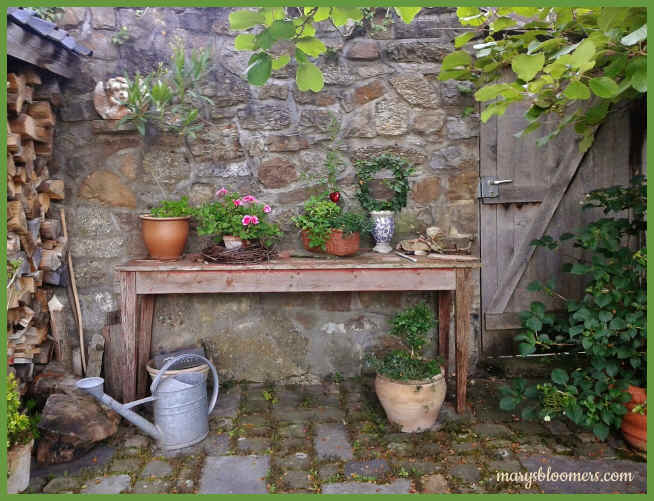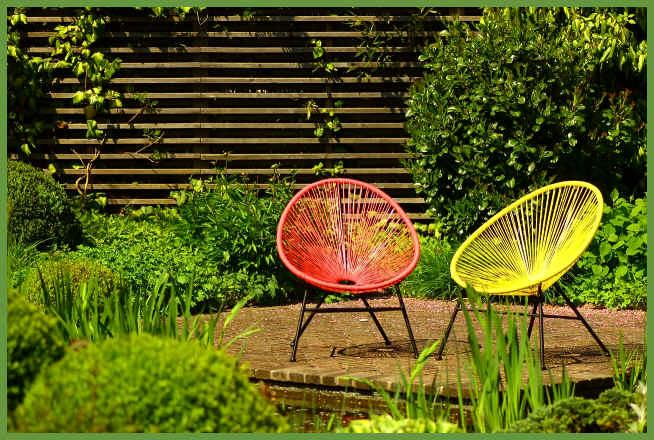 Additional sources:
wikipedia
garden photos found on Pinterest
and HGTV
LSU Agricultural Center