Check Out Some of Mary's Bloomers

Giant Hibiscus
The Flowers, Shrubs, Trees and Vines, Cacti and Succulents For Hardiness Zone 5
- A Growing List of Mary's Bloomers
I have lost dozens of plant tags, and some plants don't even come to me from nurseries with tags. The weather also makes them disappear or dissolve. I use metal plant tags, but that's not always something I remember. And pay no attention to those markers that say their waterproof and such. I haven't found a single one that lasts through a season.
So here's my list of most of the plants and trees I have been growing in my gardens. Some are old, some are new, and some are gone. Some were given to me, some I have no clue anymore what they are. But I thought you'd like to know what I plant as a xeriscape and pollinator gardens. I also focus on landscaping my habitat for birds to live, shelter and breed safely. I use common or popular names. I need to bone up on my plant family names.
These plants are growing in USDA Hardiness Zone 5. Use of these plants and helpful tips are scattered around the site. I'm not a horticulturist or botanist – just a compulsive gardener and landscaper, so my information is based on what I grow, where and why. I'll add to the list as I go along. Photos will be shown in the galleries, as I do not have the time or desire to create a fancy database. Just a list. Sorry, i'm too busy gardening and yard-working!
These plants aren't in any particular order, unless I set up categories down the road. I will note any experiences with my plants growing far bigger than stated in the descriptions (you wouldn't think that's a problem, but oh my, yes, it can be in a space-challenged garden where every inch is planned and planted) or not surviving when conditions are optimal. I'm still mystified that some things just will not grow here for me. I don't waste a lot of time on these things. I have one rule for plant-beings who come to live in my gardens... I'll give you all the TLC I can muster when you need it, I'll try more than once to rescuscitate you, I'll nurse you, move you, talk to you, sing to you, and lovingly discipline you. Your only job is to grow and show. I give you a good shot at it and i'm quite easily impressed, but I will eventually rotate persistant time-consuming plants and non-performers out in favor of a more amenable guest that loves me back.
I rarely plant seeds, teeny seedlings. Or little plugs. I organize my work time strictly. I prefer instant gratification, mass plantings, and a large plant to have a good survival edge before winter wreaks havoc. I purchase my plants at well-known nurseries that carefully ship, or local growers, those that know at least a little horticulture and botany, are organic/non-GMO, and definitely not from big box stores and lumberyard yards. What do they know about caring for the plants or what they were subjected to? Many have been sprayed with pollinator-endangering chemicals, are over-fertilized before being crammed into commercial pots and shipped to the home centers, only to sit outside and be watered when someone remembers to do it, or drowned by overwatering. Plants are usually straggly, leggy, strangled and root-bound. Some plants are not at all suitable for the region it's being sold in. I'll pass.
I tend to stick with purchasing quart and gallon sizes. Sometimes pint or 4 inch pots. I acquire vines potted or bare root, with at least a foot of vine on it. I do this with vegetable and herb plants as well. Sounds expensive, but i've saved big bucks not having to nurse a weak or needy plant or wait years for production of blooms and sizes needed for landscaping. Many of the seedlings just croaked before winter if we have a drought or stressful high heat summer. Winter survival rates of the plants is much higher. It's easier and quicker for me to plan and plant a landscape if the plant is larger than a rooted stick and resembles, or is near it's mature size. I've wasted time and money, and I find it unnecessary. I do plant seedlings that pop out from my own plants, after giving them time to sturdy-up. And I do divide a lot of my mature plants for new plantings. I already know what they need and that they'll survive.
Before planning to plant what I plant, please check the USDA Plant Hardiness Zone for your region. And remember that certain varieties of that same plant may not grow in your zone. Always check!
I've experimented with going up a zone, due to global warming changing my climate quite a bit. I have lost every single time. Because I might be able to get a plant to survive warmer winters here, but we do get late hard frost and freeze days pretty late in spring. This year, a hard freeze close to Mother's Day. It hasn't been reliable enough to risk a few seasons of beautiful plants for a warmer zone, then having them murdered by an unpredictable northeast arctic blast , nor'easter or freeze. I've had plants blooming in early spring... suitable for my hardiness zone, freeze and lose the year's flowers and die to the ground. So it is a gamble Mother Nature wins every single time. Of course, I can use plants in the lowest hardiness zones, including mine. Because that's not a gamble. It's a better bet. If the plants can handle the cold in Zone 3, they can certainly handle my Zone 5 climate.
Some images are thumbnailed, due to their large size.
Just click the teeny pics when you come upon them, to view the large pics.
The Red Giant Hibiscus along my front yard fence.
The dying blooms remind me of deflated ballons.
You can certainly remove the dying/dead blooms, but Hibiscus does a very good job of self-cleaning.
They drop of easily on their own. Birds love to hide among the big leaves.
These are the perennials in my gardens.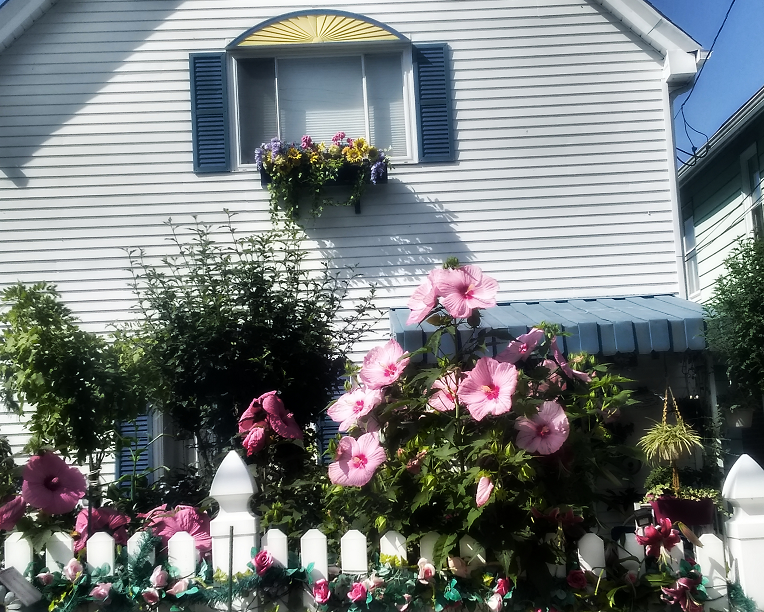 Giant Hibiscus – Several varieties and colors. The star of my front yard from July til frost.
The giant cousin of Rose of Sharon. Lined up at the white picket fence in the front yard. It makes a stunning show. The fence is 4 ft. and these plants grow to about 6 or more ft. at maturity. There are a few varieties that are shorter, but they don't do that for me. Planted en masse along a fence or wall, it's incredible. A very cottagey look. These die to the ground in winter and return later in the spring. Once the shoots come out, it grows quickly. You need to begin to stake them when they're abbout 2 ft. tall. I use green stakes and green twine so that the supports seem to blend with the plants.nThese bloom from mid-July til frost.
Blooms average 10-12 inches in diameter. And the branches keep the blooms from falling over. I tie the plants to the fence with twine and use green plant stakes. They are big and heavy. Can be trimmed without guilt, to keep them from being too wide. I have them next to a path, so I cut a bunch of branches that might hang over it.
Keep in mind that there are at least 2 types.
You do not want to try growing "tropical" hibiscus varieties in Zone 5.
I did that by mistake and every single one of them croaked over the winter. You can grow those annually and bring them in for the winter. Got no time or space for that. The perennial varieties are superb and the bees and butterflies are ecstatic. The only maintenance is tying/staking once they start to get heavy.
Coneflowers (Echinacea) – several varieties.
Zones 3-9
Echinacea is hardy, easy to grow, and suitable both for a formal border or a more informal garden. Since they resemble daisies, I have a few inhabiting that area with them.
Bees love them. Birds love the dried seed heads if left on the plant in fall/winter. I steep echinacea leaves for an immune system boost in winter. Mixed with a flavoring because I don't like the taste of it straight.

The plants are tall, with strong stems that hold up the flowers. Great for flower arrangements, because the stems are hard and stand straight.

Full sun/part shade
Beautiful and unusual color combination and a protruding cone that attracts butterflies all summer long.
Each flower of this variety is unique. Some of the 4-in., daisy-like flowers have petals with lots of yellow-green hues, and some have more lilac-pink. Reminds me of tie-dye. The blooms mature to darker shades of maroon. The tips of the flowers seem to vary in direction a little. A very cute effect.
Grows up to 40 in. tall.
Blooms from mid- to late summer. Most of mine bloom from June until the end of September. Coneflowers are a low-maintenance perennial that is quite drought tolerant,. Mine bloomed their heads off during a brutal heatwave this summer. I have some in-ground and some in planters, and they all thrive.
Green Twister Coneflower – My favorite echinacea, so far.
Click for the large view
Shasta Daisies several varieties, short and mid-height. Double and fringed blooms, white and yellow varieties.
Milkweed
-It is one of about 115 species that occur in the Americas.
Info from the U.S. Forestry Service
It is a widespread and somewhat weedy species known from most of the eastern United States and the eastern most prairie states as well as southern Canada from New Brunswick to Saskatchewan. It is frequently found in fence rows, on roadsides, in fields, and in prairies and pastures. Given the opportunity, it will establish in gardens and even thin lawns. It is tolerant of light shade, but generally is a full sun species

In the northeast and midwest, it is among the most important food plants for monarch caterpillars.
This milkweed grows to about 5 feet tall, usually occurring in clusters of stout stems. It has rhizomes and quickly forms colonies. Broken leaves and stems exude a milky latex. Flowers are borne in nearly spherical clusters (umbels) at the top of the plant, usually with 2-5 clusters per plant. Each flower is about 2 centimeters (0.75 inches) long and 1 centimeters (0.4 inches) wide. Flowers are greenish-pink to rosy pink to purplish-pink and very strongly and sweetly scented. Fruits (pods) are about 10 centimeters (4 inches) long, inflated and covered in little finger-like projections. They are green initially, turning brown as they mature. They split open revealing 50-100 seeds each with a white, fluffy coma ("parachute") that allows wind dispersal.
Common milkweed is Nature's mega food for insects. Over 450 insects are known to feed on some portion of the plant. Numerous insects are attracted to the nectar-laden flowers and it is not at all uncommon to see flies, beetles, ants, bees, wasps, and butterflies on the flowers at the same time. Occasionally hummingbirds will try, unsuccessfully, to extract nectar. That's ok, because the birds still disperse the pollen through the garden. Its sap, leaves and flowers also provide food.
I have a few groupings of these. They're pretty prolific and stubborn if you don't yank a lot out each fall. Fortunately, they pull right out. Unfortunately, the rhizomes spread underground. Mine are visited by droves of flying things besides bees and butterflies. They look nice in a clump. But I am constantly tying or staking or pulling. Fast growing, they die to the ground in the winter, and in spring the shoots push up from nothing to 5-6 ft. in no time. They're untidy and flop down and forward after a while. I'll look for shorter varieties for the pollinator garden. I began tying them to trellises just to keep them upright. The smell is wonderful, though and bees and butterflies are addicted to it.
"Elijah Blue" fescue (festucca)
Blue green ornamental grass, these grow in adorable mounds, evergreen, no trimming. Up to about 12 inches tall at maturity. Look amazing as garden edgings.
They look like big, fluffy, mounded balls look a bit silvery at certain times of day. The plants are tough. Zero maintenance, except that I like to remove browned leaves and the wheat-like flower spikes in certain areas of the garden. Beautiful addition of texture to a Japanese Garden.
Hosta – several varieties. My favorite is "Patriot".

Roses - Several types. "Julia Child", "Peace", thornless climbers, and lots of "Knockout" roses.
Oriental, Asian, mid-height and Dwarf lilies
Stargazer Lilies
– Several varieties and heights of Stargazer, along with Casa Blanca whites, and lower growing border lilies in yellows and pinks. My stargazers are pinks with red, pinks with pinks and white. I combine that with whites with pinks and whites with raspberry. Sort of like looking at a negative. I have several varieties of tall lilies (4ft. Plus) along a fence line they can be inconspicuously tied to.
Dwarf and mid-sized Louisiana and re-blooming Iris. In flower beds, rain gardens, and in water features.
Both the irises and lilies are an integral part of my Asian-style zen gardens in spring. Iris leaves last for most of the summer. The long, sword-like leaves are a nice height and fan-shape for the Asian look to add texture to bare areas. These grow and multiply for me like crazy. I divide them when clumps are visibly large and plant them elsewhere. They can take splitting and replanting quite well. The fans can be cut short in a fan shape to save space, but I prefer the look of the large foliage in separate clumps around the yard. Dwarf Iris is cute and manageable. Short and well-behaved enough to be planted in clusters of 10 or so, here and there. They don't need dividing as often. I don't use tall bearded iris anymore. They flop without support, and I just don't want to take the time to stake them. Mid-sized might need some staking, but I plant them in clusters near a fence or structure, so they can lean on plant stakes, or I use 1 ft. decorative edging fences to keep them almost upright all together in a thick row.
Peonies – a sweet-smelling favorite!
I have them planted in-ground and they also grow beautifully in my fabric 5 gallon grow-pots. Making them portable for decorating purposes. The fragrance is intoxicating. I have several varieties in shades of pink with pretty fringes and double blooms. They're grown from tubers (or is it rhizome?). Very hardy. New plantings take a season or two to produce a shrub with a bunch of flowers. But once they produce, they put out clusters of big blossoms. The blooms are big and quite heavy, and they're more than 3 ft feet tall. Untidy if left to it's own devides. I stake early spring when growth begins, inside upside-down tomato cages Large rings down and tied to it that are hidden by the stems and leaves. And the heavy tops controlled by the narrower end of the cages which I bend downward to avoid the pointy end from harming me. They die to the ground in winter and new shoots begin to emerge in early spring. The leaves are a very pretty dark green all summer. Bloomtime for me is around mid-May, and the flowers that I don't pick last a couple of weeks. Flowers last in a tall vase for about a week.
Rose of Sharon – I train these shrubs into small trees to add space to plant stuff beneath. Easy to grow, hard to kill. Prune any time when it's not budded out. They grow fast, so I prune a foot or two off twice before blossoms set. They laugh at a hard pruning and set out new shoots anyway. Double blooms in raspberry, lavender, and white. These bloom mid-summer to fall in Zone 5.
Flamingos live in the Rose of Sharon Trees
I left the suckers near the base this month to fill it in with flowers.
Butterfly Bushes (Buddleia) – Photos and more information about
these in a separate article on my Pollinator/Butterfly Gardens pages.

Several of them in the front and back yards as part of my butterfly and pollinator gardening. I have a busy interstate style of butterfly traffic, bees and hummers visiting these from morning to almost dusk. There are finally some dwarf(er) varieties, so that I can plant as part of a row. It's a shame that the long, beautiful blossoms are only 1 large flower at the ends of each branch. But it's a fast grower and puts out new branches, so there's always flowers on it. The branches get long, to about 4 feet in a mature shrub, and begin to "weep" from the weight. I like the look.
The shrub can be trained into more of a small tree by cutting some of the bottom branches each spring. It dies back in the winter, So you can trim it in spring before flowers develop to keep the height and width size down. The fragrance of the bloom is an amazing and heady blend of what smells to me like sugared vanilla, something tropical, and a light musk. I would definitely wear a perfume that smells like that! Butterflies and several varieties of bees and colorful moths, as well as hummingbirds seem to be drawn to it in an addictive way. I have happily dispensed with hanging nectar feeders for hummers (mine always end up with flying pests and I HATE cleaning them). My garden contains many hummer flower favorites. So I see them in a wider range of places in the gardens. I've watched butterflies fly in from a distance to visit and return frequenly to the shrubs, and the and bees tend to spend the day. These bloom July-hard frost. Mine laugh at these northeast winters and come back stronger every spring. No self-respecting butterfly/pollinator garden is complete without them.
Another butterfly magnet..... Monarda (bee balm).
I grow these all over the backyard and on that "hell strip" area between my sidewalk and the curb. You know the ones in cities..... bare like ugly berms, except for sand, questionable and minimal soil, pollution. And a litterbug's magnet. I dumped a few bags of soil on top to make a mound, and Bee Balm happily thrives. They fill in well and hang out happily with other plantings. I've never seen so many different species of bees and other flying pollinators prefer one plant in it's pollen diet. But mostly bees. Dogs and their owners have learned not to pester that area. The bees are peaceful, but the buzzing is a great deterrant to defecation and urination. The strip now matches the colors of plants at the fence and my front garden dιcor. If they had to be moved for city construction/deconstruction, they pull out and are moved quite easily. The roots are shallow enough. I fertilize twice per season and weed around the edges. That's It.
The leaves have an earthy and pleasant smell. I like it.
Entirely covered with daisy-sized blooms from late spring until killing frost in Zone 5. Some new dwarf varieties are available, so that's what's new this season in my gardens. About a foot tall. They spread out very slowly, and it's easy to just pluck out those stems you don't want. All grow for me in lovely, tight clumps. Very floriferous. The colors are bright and non-fading. Once it starts blooming it coninues until hard frost. Propagation is a dream..... pull a vagrant stem out with a root on it and plant it wherever you like and water well for a week. Great for sharing. Mine are less than 2 feet tall, and the dwarfs add another tier beneath tall plants and vines.
Zero maintenance, except for my choice to cut off the ugly dead flower heads and encourage it to make more and look better, and propagating it ino other areas of the gardens by dividing. Uniform plant height. Disease and pest resistant. Nothing seems to like it's taste. Full sun makes for vibrant coloring and a longer bloom time. They can take heatwaves. I have some in partial shade growing as well. When mature, it is fairly drought resistant, but it does enjoy a long drink now and then. Roots are shallow (which is why they're so accommodating of minimal soil conditions). I've grown them successfully in beds, pots, window boxes. I find them absolutely essential in a pollinator garden.